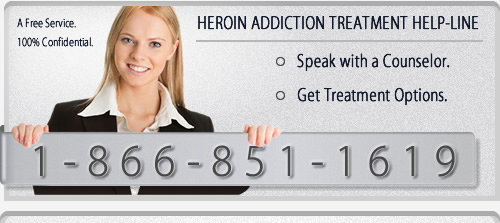 Physiological Effects of Heroin:

Heroin is a central nervous system depressant. The drug slows heart and breathing rates dramatically. During the "nod off" phase, consciousness may be lost. Any one of these effects is dangerous to the user; in combination, they are potentially life-threatening. Given the high incidence of nausea and vomiting associated with heroin use, for example, users who lose consciousness and then become sick are at risk of choking to death.

As is the case with other opiates, regular ingestion of heroin creates rapid tolerance in the user. Even over a relatively short period, weekend users may find themselves taking larger doses of the drug to achieve the same high. As many recovering addicts will attest, this is the often the first addictive hook heroin gets into recreational users.

The mechanics of tolerance are still not fully understood. One hypothesis suggests that when habitual heroin ingestion upsets the body's natural chemical equilibrium, the body attempts to compensate for it. More of the drug is then needed to overwhelm the body's attempt to suppress the drug's influence. This kind of tolerance is found with regular use of nearly all psychoactive substances.




Tolerance to heroin can vary greatly among individuals. A "regular" or "safe" dose for an experienced user can kill someone who has never tried it before. Even occasional users who build up some tolerance and take several weeks off from the drug can suffer an over-dose from their "usual" dose.

Depending on tolerance, and the amount and purity of the drug consumed, a lethal dose of heroin can range anywhere from 200 to 500 mg. Hardened addicts have survived doses three times that high.

The growing purity level of street heroin sold in American cities and suburbs is one of the most worrisome aspects of the drug's resurgence. Users accustomed to 25% purity can easily overdose if they use the same amount of the drug that is 50% or 70% pure.

A 2001 study conducted by the ONDCP found that Colombian heroin purity ranges from as low as 7% to as high as 95%. Purity of Mexican black heroin sold in South and West ranged from 14% to 58%—with both extremes reported in Seattle. These kinds of fluctuations can have deadly consequences for the user.


Heroin News / Information / Articles